Chip Repair Experts in East Phoenix
When it comes to chip repair, American Warrior Auto Glass is your obvious choice. We use factory or original equipment (OE) glass and materials and we never substitute cheaper options. This is one reason why many owners of German-made cars always choose us. And when it comes to insurance, we will work with any insurance company. When insurance isn't part of the picture, you can depend on competitive, great prices that don't change after we give you a quote. Because of our roots in hard work, integrity, and excellence, we don't quit until your vehicle's windshield is as good as new. And most importantly, we will get your vehicle back to you as quickly as possible so that you can get back to your life fast.
How to Avoid Rock Chips in Your Windshield
We all do our best to be safe drivers and protect our vehicles from unnecessary damage. While it may seem like rock chips in your windshield are an inevitable risk of driving, there are steps you can take to windshield damage caused by rocks and other flying road debris. If you'd like to avoid rock chip damage altogether, follow these handy tips.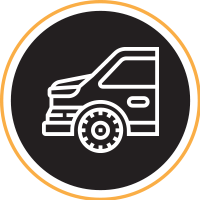 Don't Tailgate Other Drivers
Driving too closely to drivers in front of you increases the risk that your auto glass will be hit by rocks and other types of road debris. Keep at least one vehicle's distance between you and the vehicle in front. Doing so can improve the likelihood that rocks and debris kicked up by the other car will hit the ground before hitting your windshield.
---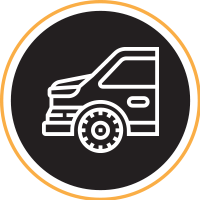 Keep your distance from large vehicles
Heavy-duty dually trucks, dump trucks, semi-trucks, and other large vehicles typically have four large rear tires that can kick up twice as much road debris that travel further than what is kicked up by smaller wheels. What's more, these vehicles are often equipped with mudflaps, which are meant to prevent flying debris. However, if mudflaps are missing or damaged, there's nothing to prevent rocks from flying up into your windshield.
---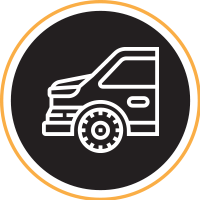 Avoid Construction Areas Whenever Possible
It seems as though there is always some sort of road construction project occurring in East Phoenix, which can make it hard to navigate your normal routes. However, if you can take an alternate route to avoid construction areas that are typically riddled with rocks, loose gravel, mud, and other materials, you could save yourself a trip to your local auto glass company for rock chip repairs. This point leads us to our next round of tips. Check it out!

Can I Repair a Windshield Chip Myself?
One question we hear quite frequently at American Warrior Auto Glass is, "Can I repair a rock chip myself?" While anyone can attempt a DIY windshield chip repair, a better question to ask is, "Should I repair a windshield chip myself." Let us explain.
---
Common Mistakes to Avoid with DIY Auto Glass Repairs
A DIY rock chip repair may seem like a great way to save money on your auto glass repairs, and even seem simple enough to do. But what we see more often than not is that DIY auto glass repairs typically lead to more damage and more expenses when all is said and done. If you're considering a DIY windshield chip repair, here are some things you ought to consider.
Waiting Too Long to Repair a Rock Chip…
Rock chips are usually pretty small and are easy to repair when the damage is fresh. The problem is that rock chips often go ignored because vehicle owners assume the damage is minimal. The truth is, a small rock chip can turn into a much larger problem if you wait too long to repair it. Rapid temperature changes, altitude changes, and everyday wear-and-tear can quickly turn a small chip into a large crack that spiders out across your entire windshield. Nip the problem in the bud right away to prevent further damage.
Relying on a Cheap DIY Chip Repair Kit…
Premade rock chip repair kits can be helpful if you have experience in using them. The problem is that these kits contain inefficient, unaligned tools and low-to-medium quality resins and materials that can lead to a faulty repair job. Not only that, but you may end up spending several hours or even an entire day trying to repair something that would have been completed much quicker and more efficiently by an auto glass professional.
---
Connect with Our Rock Chip Repair Specialists in Mesa
Today's vehicles have technology integrated into their windshields, and if a repair technician isn't correctly trained, they can do more damage than good. Let our team bring decades of experience and care to your windshield. When you want the job done right the first time, trust the Greater Phoenix area's Top Rated Local® auto glass company for your next chip repair. Contact us today.